Chronic Disease Course Bundle
This course offers the complete skill set that you need to excel in practice.
You will learn more than you can imagine from the actual practicalities of How To Treat clients from undertaking The Chronic Disease Management course. Learn from Dietitian's that are still seeing clients and at the coalface.
We provide clinical insight (like no other), with honest and practical recommendations that have been scrupulously reviewed to ensure that you can pick this up and apply the fundamentals of this course to your daily work as a dietitian.
We know how hard it is to stay up to date with all of the different clients, research, new foods, new diets and new approaches to treating, hence we decided to create a course that is truly worthwhile and applicable to your daily practice.
You want to know the how to treat. You don't just want to know the interesting biochemistry and cool nutrition facts, we show you how to apply this knowledge to practice and get your clients bought in. We will make you more competent with your clients, so you feel confident that what you are saying and how you are assessing is correct, and that you are practising how you should be.
We cover in depth clinical, biochemical and anthropometric assessments, as well as giving you clear PESS statements and the guidance to devise an appropriate and clinically relevant nutrition assessment. You will develop a better understanding of How To Treat, educate, counsel and prescribe nutrition strategies that are definitive, outcome focused and practical.
In the Chronic Disease Management course, you will learn How To Treat, Type 2 Diabetes Mellitus, Metabolic Risk, Hypertension and Dyslipidaemia, the backbone of the chronic diseases that our clients face. If you want to make a difference and be a dietitian that gets results for the clients they see, then this course is a must for you.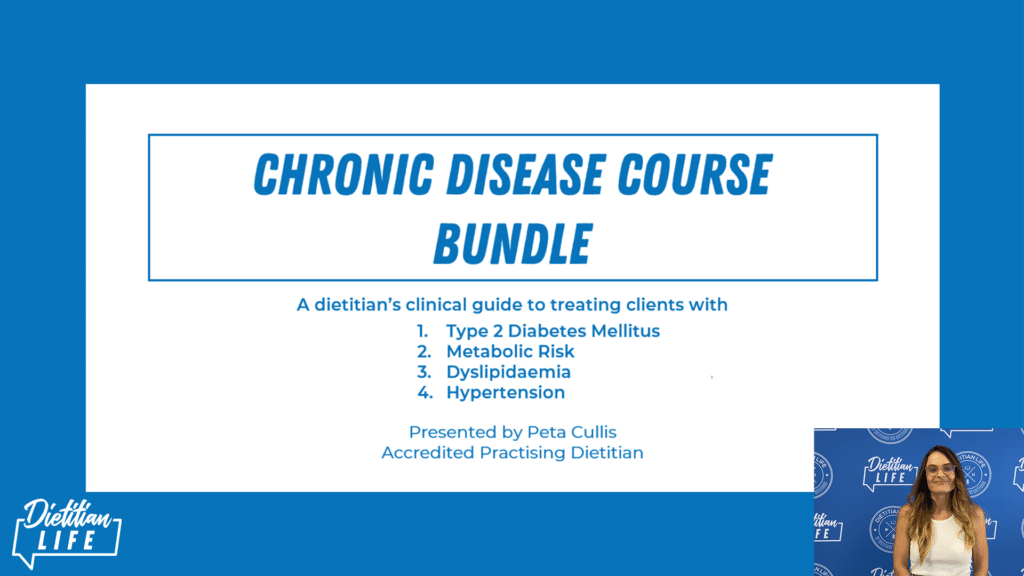 You'll receive access to: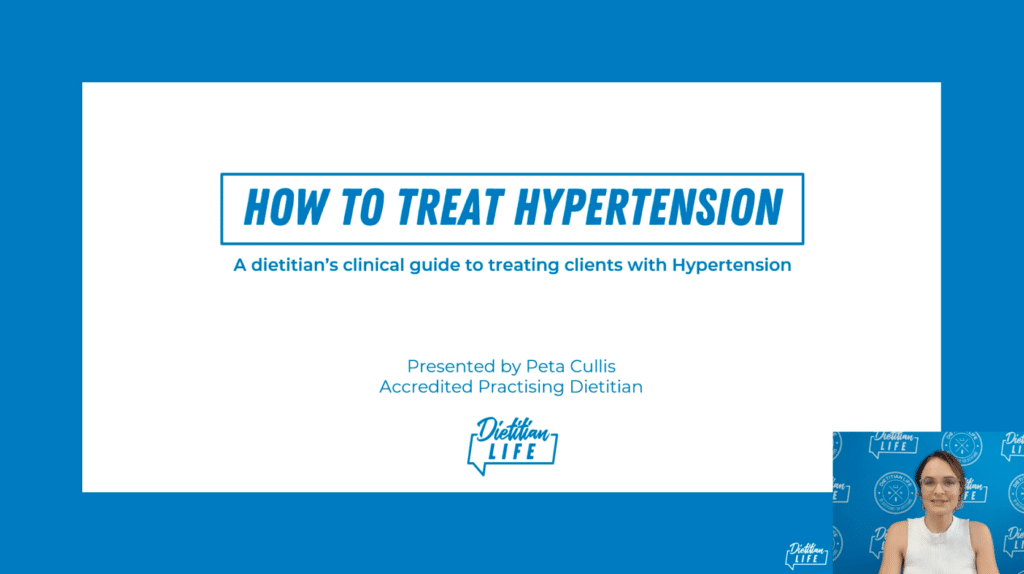 How to Treat: Hypertension (High BP)
How many dietitians, like you actually feel confident with How To Treat Hypertension? It is often a condition that is rarely addressed and rarely discussed as a clinical condition process. Did you know that Hypertension is one of the strongest independent, yet modifiable, risk factors for cardiac failure and mortality? If you didn't or forgot about this after uni, this module will change your thinking.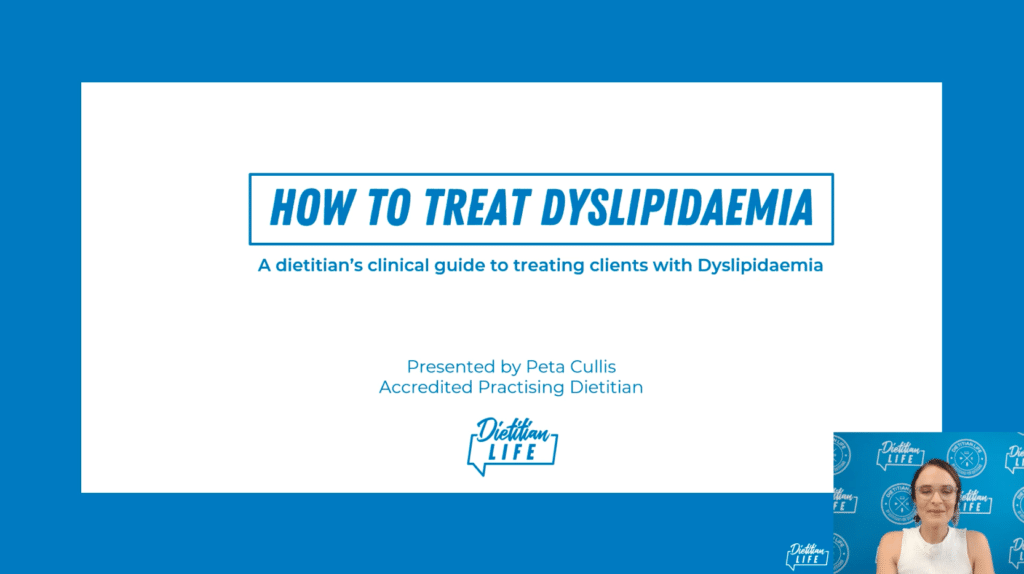 How to Treat: DYSLIPIDAEMIA
Treating someone with Dyslipidaemia and High Cholesterol can be frustrating as a dietitian. A client is often referred to you for "high cholesterol' and told to reduce their fat intake from their GP and given no targets for the goal lipid levels, let alone what the different types of cholesterol actually mean.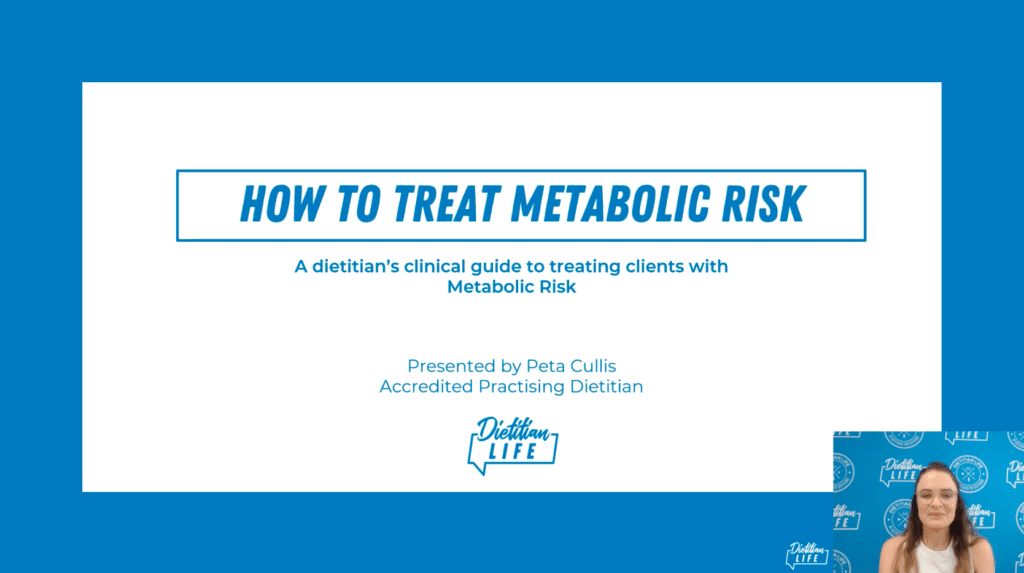 How to Treat: METABOLIC RISK
Metabolic risk is the new and emerging term that describes a complex state of metabolic changes that occur within the body. Many dietitians do not even know what Metabolic Risk is and get completely lost and confused with exactly what to focus on, what matters, and what to treat.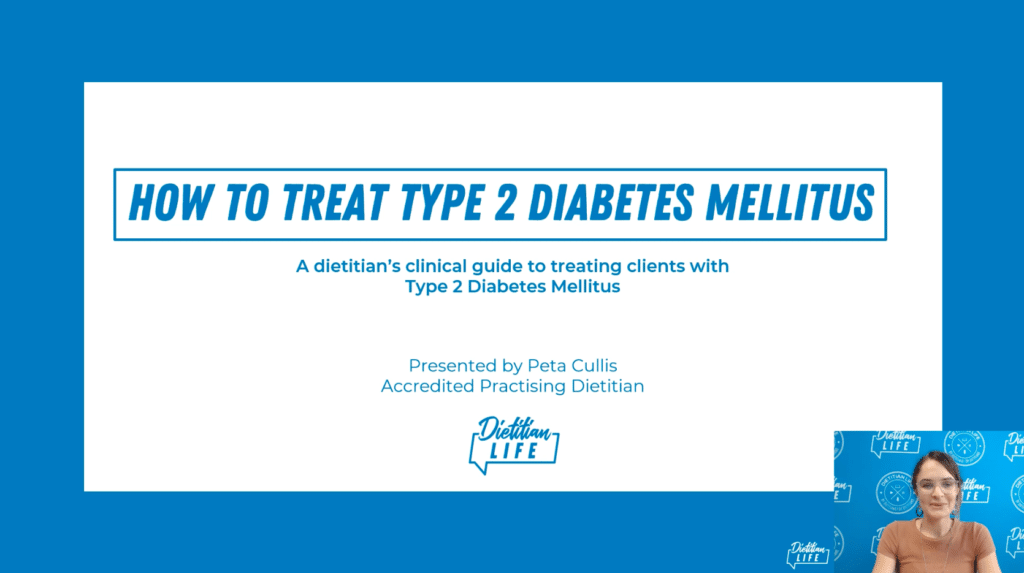 How to Treat: TYPE 2 DIABETES MELLITUS
The advice dietitians give in the treatment of T2DM is poor, lacks individualisation and in most cases will not lower a clients BGL's nor will it address the insulin resistance. If you are just recommending your clients with Type 2 Diabetes Mellitus to evenly distribute their carbohydrate intake over meals and snacks and choose low GI foods, you are doing it all wrong.